Lama Zopa Rinpoche's Online Advice Book
Family & Relationship : Your Parents

Your Parents
Health and Business Problems
Rinpoche gave the following advice to a student whose mother was very sick. He also gave advice regarding their business.
Dear Katie,
I have done more observations regarding your mother and the business.
Regarding your mother, it also comes out very good to make a Kalachakra statue, a little bigger than the life size medicine Buddha.
Regarding your business, there will be difficulties that you will have to endure. I checked and advise the following things be done in order to reduce the negativities from others towards you and the project.
100,000 Praises to the 21 Taras—to be done by Tsawa Khangtsen at Sera Je Monastery
For 14 days, do the recitation of Vajra Claws—this comes out best to be done by the nunnery adjacent to Drepung Monastery
Recitation of the Kangyur (the complete collection of sutras by Shakyamuni Buddha) by Sera Je Monastery
Prayer flags of Gyaltsen Tsemoi Phugen and Kurukulla prayer flags—to be hung on your land outside Taipei, the land you showed me that could possibly be a retreat place in the future. Hang five long prayer flags of Gyaltsen Tsemoi Phugen and five long Kurukulla prayer flags.
Tara prayer flags—to be hung on the roof of your home.
Kurukulla prayer flags—to be hung at your home, on long poles in the garden.
I did quite a bit of checking regarding your mother, and the key thing at the moment is to have another life-size Medicine Buddha statue made. Also have six smaller Medicine Buddha statues made, approximately 12-15 inches high, and place them around the life-size Medicine Buddha statue. It is important that the artwork on the statue has a good appearance.
Also, you need to recite the Diamond Cutter Sutra 1,000 times. Recite this a few times when you can, but in my observation it is best if the 1,000 recitations are done by the monks at Nalanda Monastery and the nuns in our nunnery in Mongolia.
The nunnery in Mongolia that will do the recitations is very small and it is the first Buddhist nunnery to exist in Mongolia. I know this might sound strange, but before this there was no tradition of Mongolian nuns, only Mongolian monks. The nunnery is a very old, small temple that was offered to me. It was not destroyed when the old Soviet Union occupied the country. There are about nine or ten Mongolian nuns there.
Student's Father
Rinpoche sent the following card, and some books, to a student's father.
My very dear William,
How are you?
I hope you got my cards from your daughter. I am sending you these books. Please enjoy reading them. Maybe you can read them before going to bed. You could also read the books in your dreams.
I met your wife in Portland, in the teachings. I was so surprised to see her and it made me extremely happy that she came all that way for the teachings. I am looking for more surprises like this in the future, unexpected things. Also, maybe liberation and enlightenment might happen in this way, unexpectedly.
With much love and prayers, and big love to mother,
Lama Zopa
PS I hope you enjoy this poster as well, of the holy Mount Kailash.
Sick Mother
A student, who is a nun, moved back home to take care of her mother, who was very old. Rinpoche wrote these two cards by hand, and sent this picture to the mother. The mother was suffering from multiple afflictions.
My very dear Mum,
You are not only her Mum, you are also my Mum. I am very happy that you enjoy mantras very much.
Please enjoy these cards.
You are very lucky that you are being taken care of by your daughter, who is a champion nun, a great one. HA HA HA HA (laughing).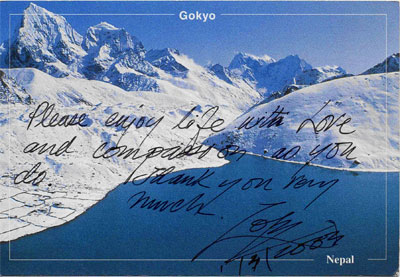 Making Your Parents Happy
A nun sought advice on how to behave with her parents. They were unbelievably kind to her and she felt overwhelmed by them. She went to visit them from time to time and tried to make them happy. She was also helping at a Dharma center, as well as studying and practicing. Rinpoche's response was as follows.
My suggestion is that you can't expect to make them happy. This is very difficult to do, and you might lose the chance to do other meaningful things and benefit other sentient beings.
Do what you can. Go to see them from time to time. When you are there, the best way to repay their kindness is to explain the Dharma to them, and encourage and inspire them to practice Dharma. Then, you will cause them to receive a good rebirth, because what they need is liberation from samsara. There is no future in just giving them mundane happiness. It doesn't help them in the long run. You can try to make them happy, but you can't expect them to be happy all the time. So, your main concern should be to repay their kindness in this way. Concentrate on putting effort into this for their sake.
How to Benefit Your Parents
A student was concerned about how to present the Dharma to her parents, and how to benefit them through the Dharma, and sought Rinpoche's advice. They were in fairly good health, but were advanced in years. This student was specifically asking whether to stay some time longer away from home to take more teachings or to return to spend time with them and to attend her father's 85th birthday.
One thing is for them to see that you have found happiness and satisfaction by meeting the Buddha's teachings. That may impress them, and cause them to wonder what Buddhism is.
Then, on top of that, as you become more loving and kind to them, this will definitely cause them to take an interest in Buddhism, to read and to learn. Then they might even come to His Holiness the Dalai Lama's teachings or to other lamas' teachings.
So, it is good for you to go, in this case, to visit your parents, and along the way you might help them, by explaining Dharma to them. This way you are repaying their kindness in the best way, by engaging their interest and explaining the Dharma to them. Then you will know that you have done what you can. You won't have any regrets, thinking, "Oh, I didn't think of them, I didn't get to help them."