Lama Zopa Rinpoche's Online Advice Book
Dharma Organization Work : Translation Work

Translating Texts and Teachings
Translating Texts and Teachings
How to Improve Translations

A translator at a center wrote to Rinpoche asking how he could improve his translations. Rinpoche gave the following advice.
My very dear Michael,
Sorry it took time to write. I am happy you are at Hayagriva Centre and helping to translate for Geshe-la. Thank you for reading the eight thousand stanzas. You might be one of the rare ones who read it. It is unbelievable. I have been collecting the benefits of the eight thousand stanzas, but have not finished. I have been writing the stanzas in gold, but I haven't had time to write for a long time. The text will be put in the Maitreya statue, where everybody will see it and receive inspiration.
You should recite the praise of the names of Manjushri. It came out good to recite it every day if you can. So many people recite this every day in the Nyingma, Sakya, and Kagyu. This might help your translation and for you to learn Dharma. Memorization becomes easy. For example, the Sera Je ex-abbot, Geshe Donyo, who passed away recently, and Gen Drubthob, the ex-abbot of Gyudmed Tantric College, have unbelievable wisdom. Geshe Drubthob can memorize a long Tibetan page just by reciting it four times. It seems Tsen-la, the translator, the first nun at Kopan, who built the Kopan nunnery, asked them how they could do that, and Geshe Donyo said it was because of reciting the Manjushri prayer that he has a very good memory and is able to understand. They are learned. You will have the same result, and be able to learn Dharma well. For help with translating, it came out very good for the center.
One most beneficial thing for the center is Medicine Buddha puja. This came out very good for the center. If possible, do this every day, if not, do it once a week, if the center needs help. It helps anybody who recites it to have all success, including with Dharma practice and realizations. Anyone who recites Medicine Buddha's name and mantra seven times receives all the prayers Medicine Buddha made in the past. Your wishes and prayers will be fulfilled. Medicine Buddha came out best according to my observation. People can write the Sanghata Sutra for individual benefit and for the center—writing it has unbelievable benefit. It's also extremely good to do prostrations by reciting the Thirty-five Buddhas' names. That is something most important that you can do every day. Many people do one hundred prostrations every morning.
I remember many years ago, Thubten Chodron, who has a center in Seattle, would do this every day, wherever she was. It is unbelievably good and so many eons of negative karma are purified. For example, reciting the name "Tathagata, the Glorious Flower" purifies one thousand eons of negative karma; it is really unbelievably powerful purification. If you do this well once, with the four remedial powers, and meditate, not just reading the name and prayers, it has the power to purify karma that ripens without interruption or a break, called Tsam Me Nga, from having killed your father, mother, an arhat, caused disunity in the Sangha, or caused blood to flow from a Buddha. If any of these karmas are committed, you are born in the lowest hot hell, with the heaviest suffering in samsara, for the longest time of one intermediate eon.
When reciting the Thirty-five Buddhas' names, if you have the realization of bodhicitta and emptiness as a support, or if you have the clear light realization of tantra and are able to bring the winds into the central channel, of course the benefits increase. One mantra is then like one hundred million, and the benefits of purification increase. If you cannot do one hundred, do whatever you can. To get used to doing it every day is so important, because purifying negative karma makes life easy. Many obstacles are pacified, even for success in this life. However, if you are doing them for that purpose, the action doesn't become Dharma, even though it has the effect. The suffering result can be purified and it helps you to achieve liberation from samsara and enlightenment, especially if it is done with a bodhicitta motivation. It helps you to achieve enlightenment quickly, the ultimate goal of life, which is to liberate numberless sentient beings from each realm from the ocean of samsaric suffering and bring them to enlightenment. You are able to do this quickly. By the way, it also becomes exercise, to be healthy. In the lam-rim lineage, prostrations are very important and many lineage lamas do many hundreds of prostrations. That's how they have great success in attaining the path and benefiting sentient beings.
Thank you from my whole heart for helping the center, helping sentient beings and helping me.
With much love and prayers...
Thanks

Rinpoche sent the following card to a translator who is translating Rinpoche's teachings into Vietnamese.
My very dear Lin,
I am very happy to have you translating my teachings and Lama Yeshe's into Vietnamese, also other Tibetan lamas' teachings. I am very happy about this.
Please have a long life, because your life can benefit many sentient beings, especially the Vietnamese people. I have been waiting to write to you for a long time, mainly to thank you. I appreciate your knowledge, compassion, and service for most dear, precious sentient beings. Please continue.

With much love and prayer to you...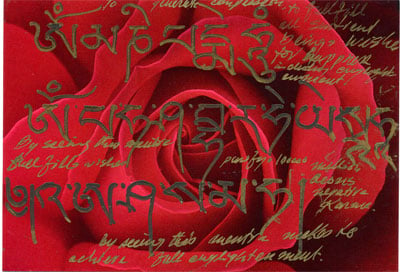 Motivation for Translating Dharma

Rinpoche suggested people generate this motivation before beginning work on translating Buddhist texts.
The purpose of my life is to free all sentient beings from suffering, and lead them to full enlightenment.
I must free all the hell realm sentient beings from suffering, and lead them to full enlightenment.
I must free all the preta realm sentient beings from suffering, and lead them to full enlightenment.
I must free all the animal realm sentient beings from suffering, and lead them to full enlightenment.
I must free all the human realm sentient beings from suffering, and lead them to full enlightenment.
I must free all the sura realm sentient beings from suffering, and lead them to full enlightenment.
I must free all the asura realm sentient beings from suffering, and lead them to full enlightenment.
I must free all the intermediate state sentient beings from suffering, and lead them to full enlightenment.
Therefore, I must achieve enlightenment. Therefore, I am going to translate these
teachings to benefit all sentient beings.
May this text be most beneficial for all sentient beings. May it cause all sentient beings to achieve enlightenment as quickly as possible. May anyone who sees this text, hears, or dreams about this text never be reborn in the lower realms. May they immediately be freed from all disease, spirit harms, negative karma, and defilements, and then achieve enlightenment in that very life.
And may those who use this text to do retreat actualize during that retreat guru devotion, the three principles of the path, and the two stages of tantra.
Notes
1. Here one can mention the type of teachings one is translating.
2. As the motivation was originally composed for a teaching on Vajra Yogini practice, Rinpoche added here the line: "At least, may they be guided by Vajra Yogini to be born in Tapa Kachoe Pure Land." When translating other tantric texts, one may adapt this line as appropriate.
Different Versions

A student wrote to Rinpoche commenting on how to check the authenticity of different versions of sutras.
My very dear Karl,
Thank you for kindly and compassionately existing in this world, helping sentient beings and, of course, helping the buddhas and bodhisattvas. I was shocked to hear that there were six Sanskrit texts of Arya Sanghata Sutra. I heard there are two Chinese translations, one is quite different to the original.
What I would like to comment on is what you said about the original Sanskrit being developed more and more over time. I can understand this happening if it is for the purpose of clarifying the text, if it was hard to understand in its original form. If it is for this purpose I can understand.
Also, one needs to check if the translators were known, great holy beings and scholars, or whether they were just ordinary beings. The Arya Sanghata Sutra is not like a root text with commentary, like the five main texts studied in the monasteries that have different commentaries by the great holy Indian pandits. And it is not like the situation with Sera, Ganden, and Drepung monasteries having different authors of debating texts, and from time to time there are contradictions or different explanations, but none of these contradictions or different explanations are obstacles to achieving enlightenment, to actualizing the path.
These days some people make their own commentaries on a text, not following the meaning. I think it is best to see which Sanskrit text was used by great Tibetan lamas, holy beings, and scholars to translate into Tibetan, and follow these. They would have checked and used the best Sanskrit version.
I am sure the original Chinese translation of the Arya Sanghata Sutra may be interesting. That would have been closer to the original Sanskrit. I checked the Beijing, Lhasa, and Dergye editions and found very small differences in the wording.
It is true that people who have strong faith in this text have to have a lot of merit. It is similar with certain subjects in the lam-rim. If it is difficult to generate a lot of faith, then that is the whole reason for preliminary practices: to purify and collect merit.

With much love and prayer...
Translation of Sadhanas

Rinpoche made the following comments on the translation of sadhanas from Tibetan into English. He laughed a lot when he made these comments.
In Tibetan, everything is in the past tense, that such and such happened. For example, "clouds of offerings appeared and were offered" and so forth. In English, this is always translated in the present tense, as "clouds of offerings appear and are offered" and so on. So, in Tibetan it's happened and finished, and you move on to the next thing, but in English it's still happening, so you never get to finish even one sadhana. It takes a whole lifetime just to do one sadhana!
Oral Translation

Rinpoche described a conversation he had with a nun regarding the difficulty with oral translations of Tibetan teachings.
To translate exactly as the lama has said from beginning to end is extremely difficult. Even if the translator is very good, it is extremely difficult and quite rare for there to be not the slightest mistake. Some people might be good at translating texts, but when it comes to colloquial language, it might be difficult for them to translate correctly. Even some professors who are great teachers, when it comes to colloquial language, find it difficult to understand everything.
It is very important for the teacher, the Tibetan geshe, to examine the translator and also to ask the students questions, to see what they have understood. Then they can tell whether the students have got the right explanation or not, when they listen to how it comes back to them. They can get some idea whether the students have got the correct explanation or not. Their answers may be incorrect, but still it becomes clear if they haven't received the complete explanation.
There are many different reasons why it is important to learn the Tibetan language. One has so much freedom to study all the commentaries in Tibetan, and you can also learn from a Tibetan lama directly without a translator, especially for the philosophical teachings. Of course, if there is either a precise translation from the translator or direct explanation from the teacher, there is no question about that. But sometimes I see the Dharma is more difficult to understand in English than in Tibetan. In some cases, it is not clearer and easier, but more difficult in English than in Tibetan.